junior

PAWS

Program
Young people with big hearts helping dogs in need
Are you a young person or do you know a child or a group of young people who want to learn more about dogs and the Lakeshore PAWS animal rescue? We warmly welcome young people to get involved with our organization and offer special "junior" program for them.

junior

PAWS


VOLUNTEER CLUB
For younger children aged 8-16 & 5-7 (with an older sibling), who love dogs and want to learn more about these furry friends.
Meet once a month at the Lakeshore PAWS rescue center.
Learn about appropriate dog care and training.
Participate in "hands-on" tasks in caring for our homeless dogs.
Enjoy safe, fun interaction with dogs we have rescued who need some love.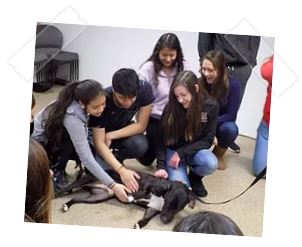 junior

PAWS


VOLUNTEERS
For individuals or groups of young people under age 18 who want to support our homeless dogs within their own school or community.
Organize a fund-raising event (car wash, dog wash, bake sale, lemonade stand, yard sale, etc.)
Organize a donation drive (collect towels, fleece blankets, dog toys, or other items from the wish list on our website).
Share your birthday. Ask guests to donate items to our homeless dogs in lieu of gifts to you.
Act as an ambassador for Lakeshore PAWS. Distribute our flyers at school or within your community.
Help at Lakeshore PAWS adoption and fund-raising events.
junior

PAWS


OUTREACH
Our team of dedicated adult volunteers will visit your school or community youth group to educate young people about:
Responsible pet ownership
Our Lakeshore PAWS mission
Opportunities we offer to help young people become more aware about animal rescue and get more involved in a worthy cause.